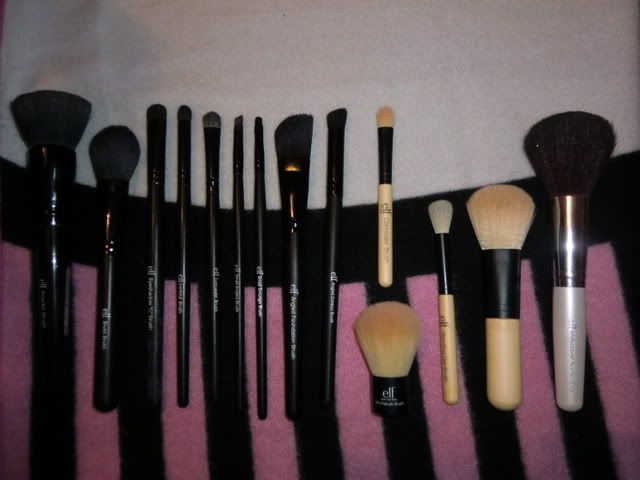 A number of people have been asking me about brushes recently. So I thought I'd make a blog post about E.L.F (stands for Eyes Lips Face) brushes.
E.L.F is an American company (launched in New York in 2004) who are best known for their EXTREMELY affordable cosmetics. The initial line in America had every item costing only $1. E.L.F UK launched in 2007 – and while the prices aren't as low as they are over in America, they are definitely one of the best budget cosmetic lines out there.
I'll be honest. I haven't tried much of the stuff from their standard line (with every item costing £1.50) because not a lot of it appeals to me. But their studio line (around £3.50 an item….with a few exceptions) is a bit fantastic. I'm not going to talk about everything I have ever purchased from E.L.F because quite frankly – It would take hours. However, I am going to do a bit of a roundup of the brushes that I own.
I have more E.L.F brushes than any other brand. I genuinely believe that their brushes are as good as/better than some higher end brushes that I own – which cost at least 4 times the price.
Brushes from E.L.F's Studio and Mineral lines are made with synthetic Taklon hairs. I'm not 100% sure about their Standard brushes but as far as I am aware, these are synthetic too (although I don't think they are Taklon.) I can't speak for the rest of the world…but I feel much happier knowing that I am using a synthetic brush, rather than rubbing horse hair on my face every morning (*cough* MAC *cough*).
I'm going to break this down into the different ranges that E.L.F do – because I don't feel exactly the same about all of them:
Studio Line: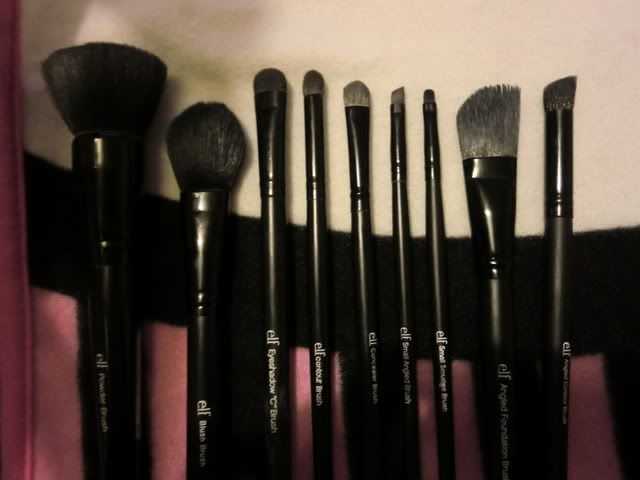 (left to right: Powder Brush, Blush Brush, Eyeshadow C Brush, Contour Brush, Concealer Brush, Small Angled Brush, Small Smudge Brush, Angled Foundation Brush, Angled Contour Brush)
I own 9 different Studio brushes (I have doubles/triples of some of these because they get so much use.) The studio range is easily my favourite collection of items that E.L.F sells – and the brushes are AMAZING. Each of these brushes cost a mere £3.50. I really like the way that the face brushes come packaged because they have a little piece of plastic that slides onto the bristles. I keep these bits because it helps keep their shape if Im travelling with them.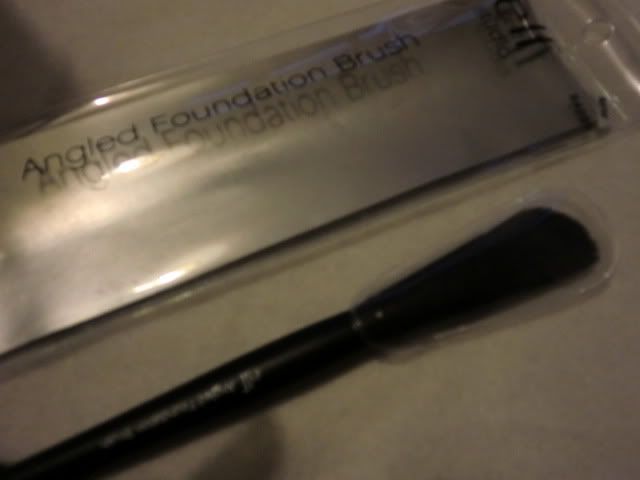 I also love that these are all black. It makes them look much more expensive than they actually are. They feel like high quality brushes and are really easy to keep clean.
Powder Brush
: I have two of these. One for my handbag and one for my brush roll. I have yet to find a brush that is better than this for applying loose/pressed powder foundations and finishing powders. The shape of the side of the brush makes it really nice for applying highlighters too, although I prefer something a little fluffier for that.
I love that it has a flat top – it's very difficult to find a flat topped brush in the UK, I'm not sure why because if you have a look on the internet, most American companies seem to do one.
If you are only going to buy one brush from E.L.F, I'd suggest that you make it this one.
Angled Foundation Brush
: I usually hate using a brush for liquid foundation. In fact, I'm not really much of a liquid foundation kind of girl. I purchased this brush last week because I had bought a new liquid foundation while I was staying with my parents and I couldn't get it to apply nicely with a sponge – I think I might have been converted. The brush really does give a great finish. The shape of it makes it great for getting into the contours of your face too (especially under the eyes, which is usually the place that I end up having to blend out with my fingers.)
I also had a shot at using this as a contour brush. I am currently using a MAC 168 which I'm not too fond of (white brush hairs annoy me…they look dirty all the time.) This brush works better for contouring than the 168. I think I'm going to have to buy a second one for this purpose. Let's look at the price difference…just for fun.
Mac 168 = £24 E.L.F Angled Foundation Brush = £3.50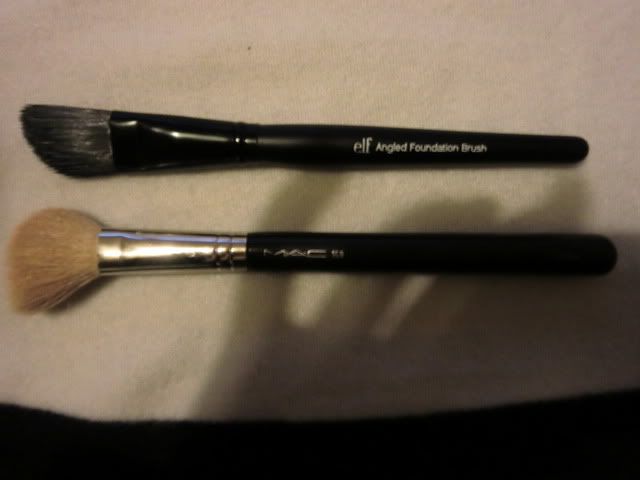 I could buy almost 7 E.L.F brushes for the price of the 168…I sure wish I had known that before buying the MAC brush.
Blush Brush
: I use this as a finishing powder brush. It's good for blush too but I really like my GOSH stippling brush for that (yes…I know that it's meant for foundation.) This brush is SUPER fluffy. Its the kind of brush that make you smile when you use it because it tickles a bit. Honestly, I could probably live without this – because I have enough brushes that are similar, but I'm glad I have it.
Concealer Brush
: This is one of the newer brushes in the studio line. I LOVE this. Most concealer brushes are too soft to actually do the job they are intended for, but this is quite solid. It works well with both liquid and powder concealers too which is nice. I do like a bit of versatility!
Small Angled Brush
: I think this is meant to be for eyeliner, but I have always used it to fill in my eyebrows. There are lots of similar brushes to this out there, and its fairly hard to go wrong with these – but I do like this. It has a nice long handle (unlike a lot of other similar brushes) which makes it a bit easier to control.
I have compared it here to the MAC 266 (which is £15).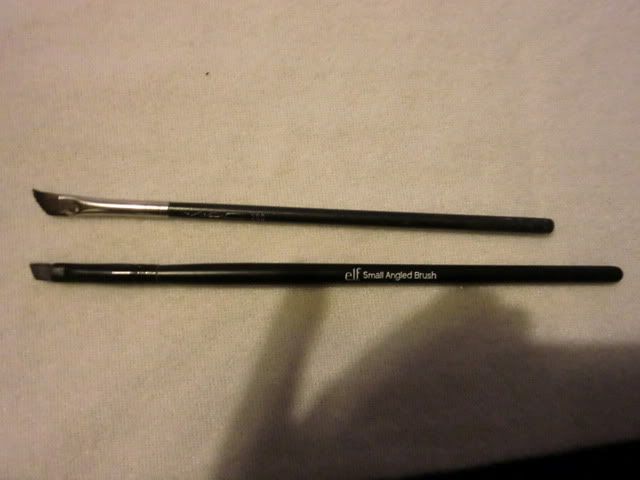 Contour brush
: I think I have 4 of these dotted around in my flat. I use them every single day. This is meant to be a contour brush but I could quite happily use it to apply lid colour and highlight too. It's nice and fluffy and especially good for packing on loose powder eye shadows. Its ok for blending, but not totally ideal.
Angled Contour Brush
: This is another new brush to the studio range. It's probably the one that I like the least, but I haven't really had much of a chance to play around with it. I find it a bit big and clumsy for contouring. I do see it being good for applying glitter though (which is what I'm going to try tomorrow.)
Eye shadow C Brush
: This is a bit firm for using with powder eye shadows, however it is amazing for applying cream eye shadows. I use it most with my MAC paint pots. When I was using my Urban Decay Primer Potion out of a pot, I used this brush to apply it (but I bought a new tube, so I don't need it for that right now.)
Small Smudge Brush
: I can't really review this, cause I haven't used it yet. I figured that I may as well photograph it for this post though. I purchased it as a lip brush (for when my goodies from High Voltage Cosmetics turn up!) but my lips are still recovering from Winter, so I'm stuck on lip balm until they feel a little bit better. It does seem as if it would do a good job as a lip brush though, the size and firmness of the brush is exactly what I was looking for!
Mineral Line (Bamboo Brushes):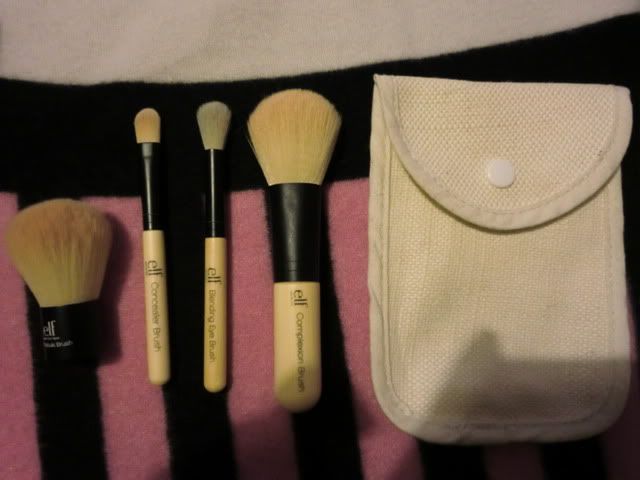 (left to right: Kabuki Brush, Concealer Brush, Blending Brush, Complexion Brush, Pouch)
This is a new range of brushes from E.L.F. Each of these is priced at £5.50. I own the 4 piece set which is £15 and comes with a little pouch to hold the brushes. The handles of the brushes in this set are shorter than the standard size though.
A general comment that I have to make about these (rather than repeating it for each individual item) is that I really don't like makeup brushes with white bristles. I hate how dirty they look all the time. Even after you clean them they never quite look right.
Complexion Brush
: This is too fluffy to use for powder foundations or blot powders. I have been using it as a highlighting brush because I don't like my highlight to be too obvious. I do sometimes feel like this brush is picking up more product than its actually putting on my face though because of the fluffiness.
Blending Eye Brush
: I really really really like this brush. I don't really know what else to say. The only thing I would change is the colour of the bristles, but this brush works so well for blending that I can live with it looking a bit gross! This is worth every penny! I'm going to pick up a long handled version of this for by brush roll because the short one slides around too easily. This one is great for travel though – especially with the little bag it comes in.
Concealer Brush
: This is way too fluffy for concealer. I have been using it as an eye shadow brush. It's a nice size for applying a highlight shade because the width of the brush pretty much matches the depth of my highlight space.
Kabuki Brush
: I don't know if the full priced kabuki is a different size to this one, but I really don't like this brush at all. It's too small to hold when doing foundation, and it's WAAAAY too fluffy to apply powder evenly. I don't really know what to do with this one. It's pretty much the only brush I own from E.L.F that I wouldn't recommend.
Standard Line: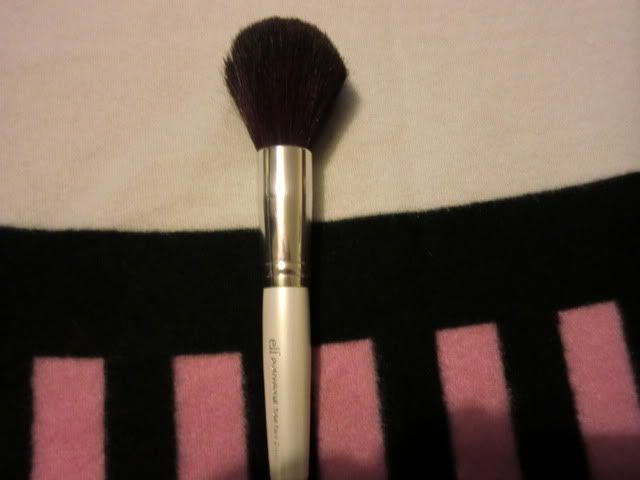 These are the cheapest brushes that E.L.F has to offer (£1.50 each). I only own one of these – the
Total Face Brush
. I don't really like using this on my face, because it's a bit scratchy. I actually use this for body glitter. It's nice and big so its good for dusting glitter or shimmer onto shoulders and arms. Lots of people seem to love this brush for applying powder foundation, so maybe I am just a bit sensitive to it. If you are looking for a powder brush then you may as well give it a shot. Its only £1.50 after all!
Summary

So basically, I love E.L.F's studio brushes. I am a bit on the fence with the others.
If you have about £15 to spend on brushes, this is what I would suggest.
Mineral Blending Brush (£5.50)
Studio Powder Brush (£3.50)
Studio Angled Foundation Brush (£3.50)
Studio Contour Brush (£3.50)
….ok that's £16. I couldn't get any closer to £15. E.L.F regularly do discounts via
their Facebook page.
So if you wait for a good discount you might be able to get it for less than £15 anyway ;)
Their postage is really quick - which is excellent. If you order before 12 then your order will usually be with you the next morning.
E.L.F products are available from http://www.eyeslipsface.co.uk/