Ok, so I have been wanting to do this for ages – but didn't have the time/place to do it properly…and then this week, I had time, but their website was down and I didn't see much point in telling everyone how amazing this brand are, when no-one can actually buy the stuff.
Fyrinnae ("fyeer-ih-nay") is an internet based independent makeup company based in the US. You can read more about them
here
.
I heard of this company through a blogger called Anastasia who runs a beauty blog called
Lipsticks & Lightsabers
. She did a massive roundup at the end of last year of all of her favourite products and the one product that was mentioned throughout was 'Pixie Epoxy' by Fyrinnae, so I decided to check it out.
Pixie Epoxy is NOT an eye shadow primer. It sort of works as a glue that grips loose eye shadows and makes any sort of shimmer/glitter/duo chrome more prominent. It has a similar effect to "foiling" shadows or applying them wet, but without making them hard to blend out.

This stuff is AMAZING. I have had it for a little while now but never had anywhere to rave about it before. I have a lot of makeup, there's no denying it – but a lot of the shadows that I own are a bit of a disappointment when applied – because they never look as good on as I feel they should.

To give an example: Back in 2009 I was very excited about MAC's 'Style Black' collection. I was mainly excited for 'Blue Flame' Mineralize Eye shadow (Black with Blue Glitter!) I went out and bought it on launch day, only to be disappointed when it actually came to using it. The shadow didn't go on how I imagined at all – it was sort of Grey with random blue sparkle fallout all over my eyelashes and cheeks :(.

I literally haven't touched this eye shadow since then, until this morning – when I used it with Pixie Epoxy.

Im not going to talk anymore – here are some pictures to show how amazing this product is. (I apologise, I don't have a proper camera, only my mobile phone – which doesn't do the stuff justice, but you can definitely see how much of a difference it has made to the pigmentation of the products!) I have shown it being used with a range of brands (including MUA, which is Superdrug's £1 range of eye shadows, this stuff isn't just amazing with High End products you know ;))

The swatches on the top row are without Pixie Epoxy….the swatches on the bottom row are with. I know which one I prefer! (The image is a clicky so that you can see it better.)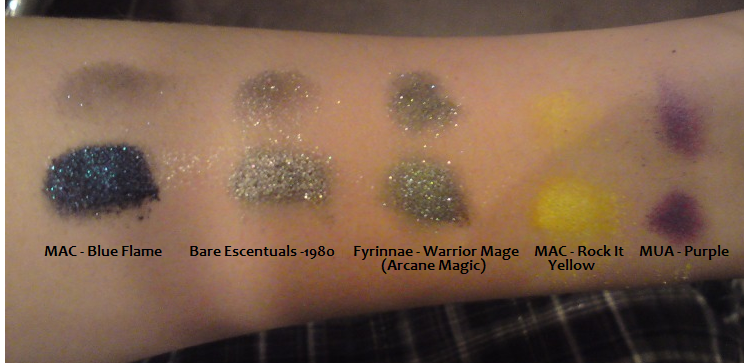 You can buy Pixie Epoxy
direct from Fyrinnae
. A whole tube is only $7!!! (For us UK people, that's around £4!) A great thing about this brand is that shipping to the UK is REALLY affordable ($3.50) and if you spend over $20 (about £13) then the shipping is free.
The international postage is a little slow, I will admit, but it is SO worth the wait. They always throw in freebies too which is a lovely touch :)
I have ranted for long enough but I just want to add – their eye shadows are GORGEOUS, and the sample sizes that they do last for ages.
Can't recommend this brand enough! So finally, here is the web link :D
http://www.fyrinnae.com/
happy shopping!